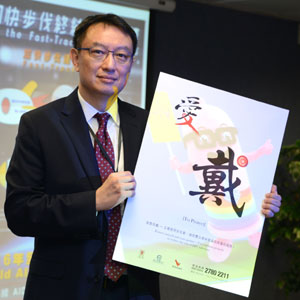 Hong Kong recorded the highest quarterly figure for new HIV infections in the first three months of this year, the Centre for Health Protection says.
A total of 202 cases of HIV infection were reported during the quarter, bringing the total number of reported HIV infections to 8,612 since 1984.
The newly diagnosed cases involve 180 males and 22 females.
Among them, 116 acquired the infection via homosexual or bisexual contact, 26 via heterosexual contact, two via drug injection and one via perinatal route.
The routes of transmission of the remaining 57 cases are being investigated.
Seventeen new AIDS cases were reported in the quarter, bringing the total number of confirmed cases since 1985 to 1,783.
The centre's Consultant Dr Kenny Chan said there were various factors contributing to the rise of reported HIV infections, including unsafe sexual contact, sharing needles to inject drugs.
He urged the public, especially homosexual men who made up the bulk of the new HIV cases, to use condoms during sexual intercourse to reduce the risk of contracting HIV.
People who inject drugs should avoid sharing needles with others and should receive methadone treatment as soon as possible, he added.
Click here for more information.