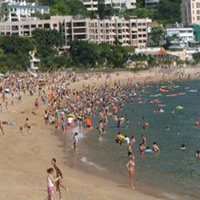 The Environmental Protection Department has rated water quality at 23 beaches 'good', 14 'fair' and one 'poor' for this weekend.
Silverstrand Beach received a better grading than last week, moving up from 'fair' to 'good', and Butterfly and Kadoorie beaches from 'very poor' to 'fair'.
Big Wave Bay Beach, Cafeteria New Beach, Cafeteria Old Beach, Clear Water Bay First Beach, Ma Wan Tung Wan Beach, Shek O Beach and Stanley Main Beach were downgraded from 'good' to 'fair', and Castle Peak Beach from 'fair' to 'poor'.
Click here for details.