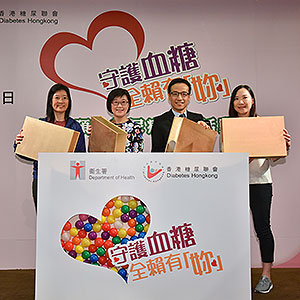 Director of Health Dr Constance Chan has urged women to enhance their awareness and understanding of diabetes and to lead their families in following a healthy lifestyle.
Speaking at a promotional event in support of World Diabetes Day today, Dr Chan highlighted the important role of women in families in the prevention and control of diabetes.
The disease is the 10th most common cause of death in Hong Kong and affects about a 10th of the population.
Department of Health figures show there were 498 deaths in Hong Kong last year due to diabetes. Approximately half were females.
Dr Chan said: "The main causes in Hong Kong are people's eating habits, the obesity problem and a sedentary lifestyle. Up to 70% of cases of type 2 diabetes could be prevented through adoption of a healthy lifestyle."
The event, organised by the Department of Health and Diabetes Hongkong, introduced ways to prevent type 2 diabetes.
Dietitians guided participants in examining food labels to help them identify healthier snacks and pre-packaged food.
Diabetes-friendly recipes were also introduced.
Click here for information on diabetes care.